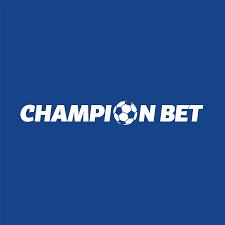 ---
Champion Bet ET is one of the most popular betting sites in Ethiopia (along with Vamos bet and Betika et) until recently, Ethiopia was not regarded as a betting nation but much has changed and bookmakers like Champion Bet are really making their mark in the Ethiopian betting industry. Champion Bet was founded recently and it operates legally in Ethiopia.
The bookmaker has an online betting website and several betting outlets spread all over Ethiopia.
Champion Bet Ethiopia is truely a dedicated sports betting company which offers several sporting disciplines for betting like soccer, basketball, cricket among other sports. You will notice that soccer is the main sport on this platform due to several soccer related links on the website. Punters have access to more than 800 world football leagues, tournaments and cups and you can expect to bet on the popular leagues and tournaments like the EPL, La liga, Serie A, Bundesliga, Ligue 1, UEFA Champions League, Europa League, FIFA World Cup amongst others.
How to Register with Champion Bet Ethiopia
In order to bet on the Champion Bet website, you must be registered with Champion Bet ET and you can easily do so by completing the simple registration process which only takes a minute or so and is absolutely free of charge. To register, you must:
Click on the blue 'Register' button at the top-right corner of the homepage
Fill in the Registration Form with your Nickname, Mobile Number, E-mail, Password and Date of birth.
Click to confirm that you are above 18 years and then click on 'Register' to finalise the registration process.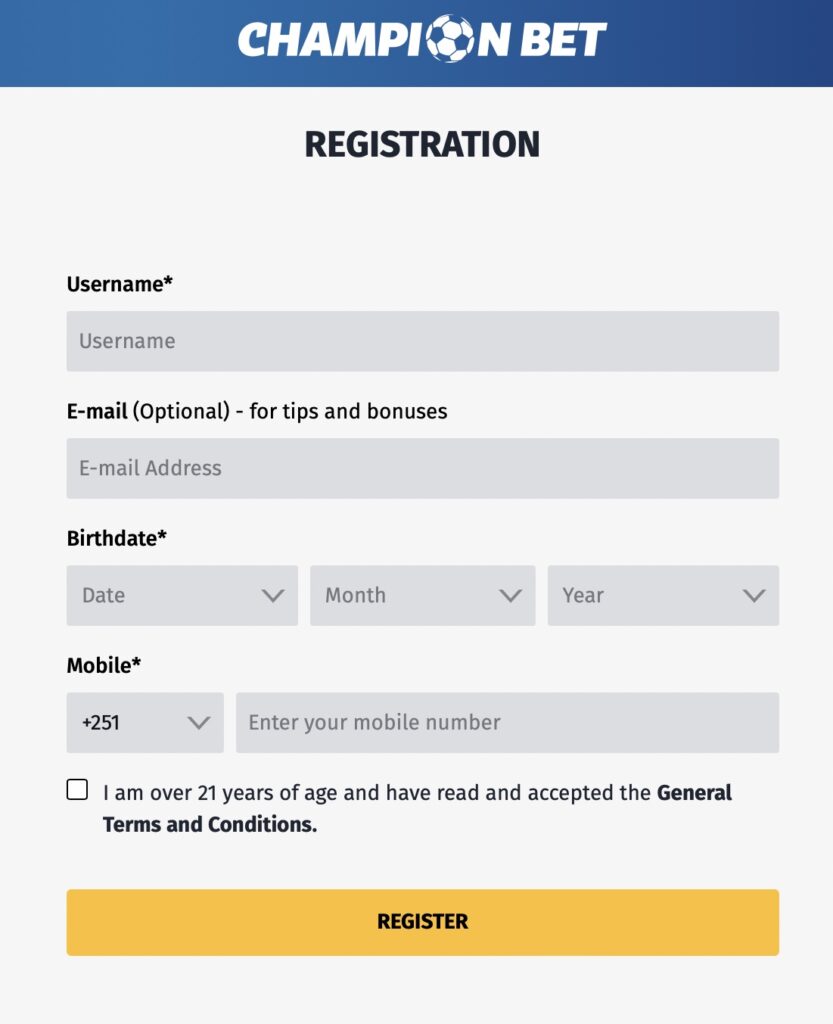 How to deposit on Champion Bet ET
There is currently not many deposit options with Champion Bet and we hope that more ways of depositing will be unveiled soon.
To make a deposit at a branch, you must visit any Champion Bet outlet and ask the operator to make a Client IN for you. Please have your username and money prepared. After the transaction you shall get a slip and you need to carefully check if all the information is correct to avoid funding a different account. Please note that the minimum deposit amount per transaction is ETB 10 and you can deposit as much as you want as there is no limit in that regard.
You can also make a deposit using hellocash-lion and you can do so by visiting the official Champion Bet website and click on 'account' and then 'deposit'. Fill in the filed requested amount to deposit then click send and you will see a message box "deposit request stored". After that you have two choices depending based on whether you do have or not hellocash account:
If you have a hellocash account then you either dial *803# and you will get a prompt to enter your pin code to make payment, enter your code and click send which will finalize your deposit. Finally, you will get SMS from hellocash confirming your deposit.
OR
Go to the hellocash app and click on the "bill" button, then you will get a prompt to enter your pin code to make payment and click send which will finalize your deposit. Finally, you will get SMS from hellocash confirming your deposit.
If you don't have hellocash account then You will receive a text message with an ID number which you can take to any lion bank or hellocash agent near you and deposit the cash.
You can now also use Chapa to make a deposit into Championbet
How to withdraw on Champion Bet
To cash out money from your online account, log into your account and initiate a request. To do so, click on the Account button and on the left menu click on the cash out link; enter amount to withdraw. In the next few minutes, you should receive a 4 digit number on your registered phone number. To complete the cash out, visit any of our shops. You will need your registered username and the 4 digit number. Sales operator will verify this data and approves withdrawal.
Champion Bet ET Website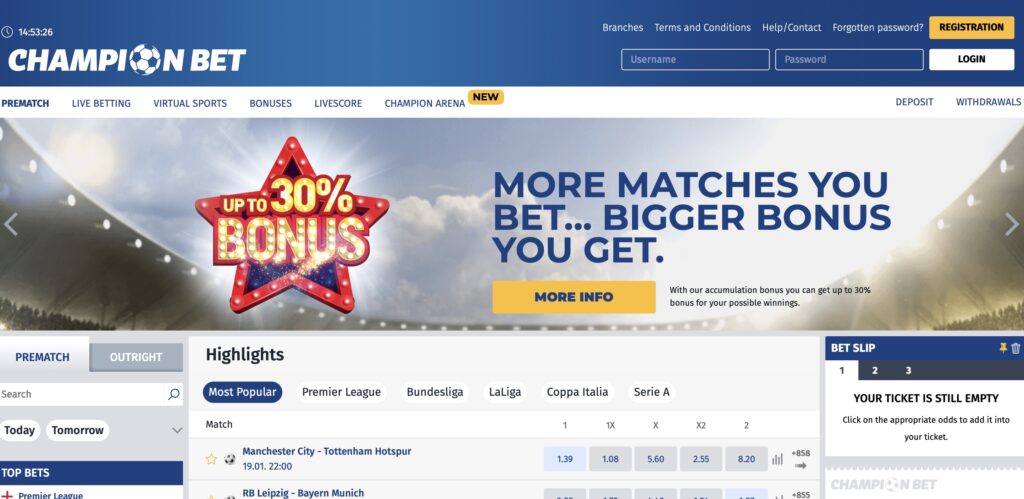 The Champion Bet website is quite distinct with its blue and white colour scheme which is quite easy on the eye. The website was beautifully designed using the popular three-column layout whereby the Sporting disciplines are on the left, live and upcoming matches in the middle and the Betslip on the right. The Champion Bet website is quite navigable and can be easily used by both experienced and novice punters. The website is very responsive and the punters can easily bet whether they are using the Desktop or the Mobile version of the site. The mobile site is equally impressive and the reason is because Champion Bet have made everything on the desktop site available to the mobile site so that punters can carry on with their betting activities on the go. The layout of the desktop and mobile sites are obviously different due to screen size but functionality remains the same.
Which Sports does Champion Bet offer?
Champion Bet offers quite a number of sports on its betting platform but as indicated earlier, the bookmaker places major emphasis on soccer betting, the reason may be that soccer is very popular amongst punters and many punters prefer to bet on a sport they are familiar with. The sports on the Champion Bet platform are:
Soccer Tennis
Basketball Baseball
Ice Hockey Handball
Volleyball Badminton
Table Tennis Cricket
Rugby Aussie Rules
Boxing Futsal
Mma Waterpolo
Champion Bet Customer Service
Champion Bet needs to improve on their customer care service because the channels of communication are not enough, currently you can get in touch with them via;
email: info@championbet.et
Phone: +251 996981010 +251 911440745