Betika Ethiopia – Betika ET
---
Betika Ethiopia
REGISTER WITH BETIKA ET

Online sports betting in Ethiopia is growing and while there are not an abundant of world class sites yet, there are many websites that offer decent offerings and, in some cases, substantial pay-outs.
There are a handful of continental brand names about, and betika.et is a well-known African brand with a foothold in many countries, just like Betking ET.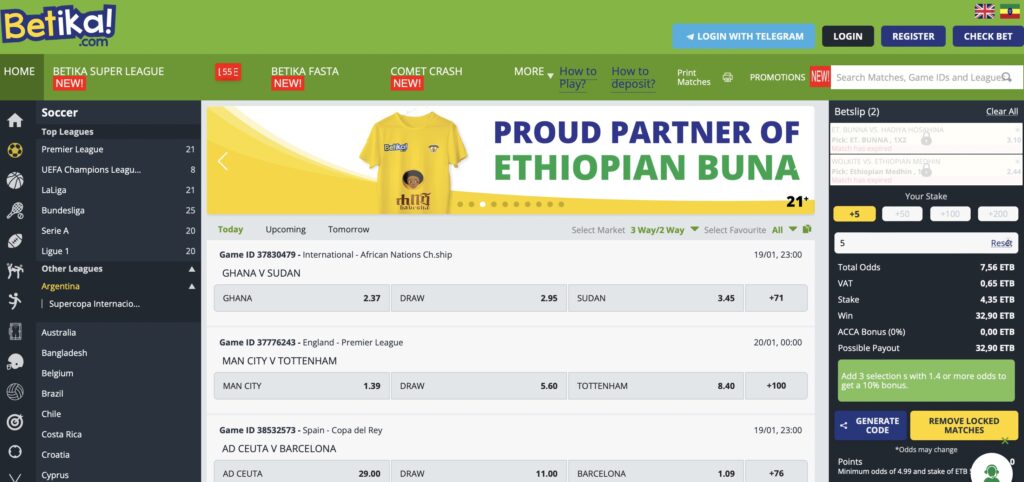 Betika ET
Betika Ethiopia is a comprehensive betting site with a significant football jackpot, and this alone could bring in many punters. Also take a look at the Betika Ethiopia Daily Jackpot Prediction
Betika ET offers betting on all sports, with a focus of course on football.
Many betting sites in Ethiopia offer duel language options and Betika is the same, offering Amharic and English versions.
When it comes to sports betting sometimes the only key factor is the football jackpot action and the size of the pay-out and in this department, they have got it right.
They offer a Daily Jackpot and a weekly jackpot.
The rest of the home page is made up of a register and log-in tab. The is also a small tab with a click on 'deposit' taking the punter through process of how to fill up their Betika ET wallet. There is also a small tab that offers the bet slip, but unlike almost all other betting sites the bet slip is not visible, and a player needs to click on the link to see potential wins, stake amounts and more.
The left- and right-hand flanks of the landing pages are as bare as white linen sheet, with no graphics, promotions, images or side markets.
Before we get to the impressive football jackpot, let us look at the rest of the sportsbook and bet market:
Clicking on the 'sports' tab will take the punter to a page showing a massive football market and scrolling down a player can check out the limited basketball action.
The football book is exhaustive and there is win-chances on leagues from as far flung as Thailand and the Ukraine. Almost every football playing country cracks the list.
The football market is large, varied and full of hot betting opportunities.
Click on England EPL and the latest matches appear, with the traditional 1×2 bet on the soccer landing page.
Clicking on a match, like Aston Villa and Manchester City for example a punter will see a significant bet market including bets like btts, first-half/second half, over/under/total goals, handicap and more.
There are other betting sites that offer an even more extensive football bet-market but Betika seems to have all the favourite options covered.
Register for Betika Ethiopia
To register for Betika Ethiopia, first go to their site here, and then click on the blue register button at the top. Enter your phone number and a password and you'll be sent an OTP. See all details on how to register on Betika ET or our Betika Login Guide.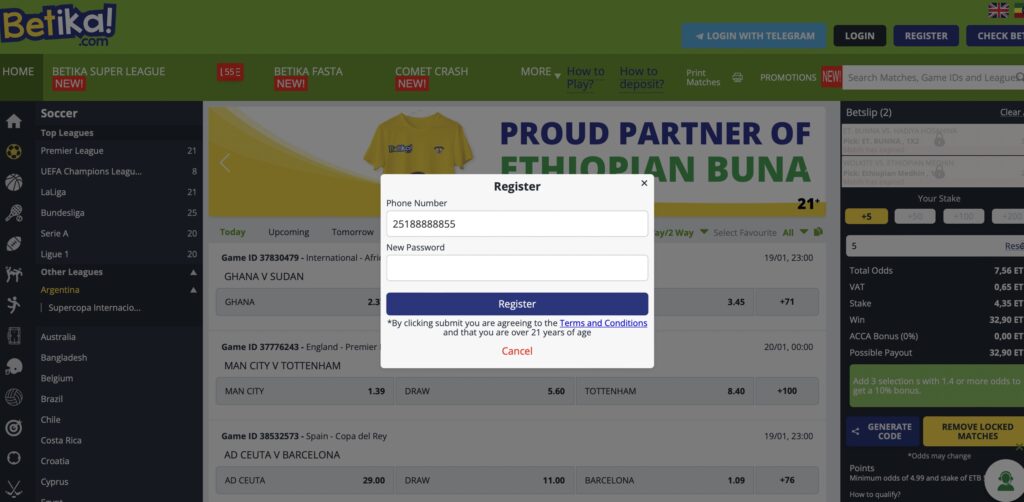 Betika ET Jackpot
The weekly jackpot from Betika Ethiopia is where most of the action unfolds with the 13-legged affair taking the traditional 1×2 (home win, draw, away win) model.
The minimum bet is 10 birr and the player can win 1.5 million, which roughly translates to about 50 000 US Dollar. This is a large jackpot win for a small stake and offers players an opportunity for a life-changing win.
The matches are taken from all the world's leading leagues like the EPL, La Liga, Lige 1, Bundesliga, Serie A and more, while off-season there is matches from obscure competitions. There are also games from international matches offered on the weekly jackpot.

There are consolation wins for players accurately predicting 12 and 11 correct results.
This is not a progressive jackpot so if no player wins, then it is not carried over and is always set for 1.5 million birr.
Moving away from the jackpot, it is disappointing to note that there is not one promotion advertised on the landing page or any subsequent page. One would be forgiven for thinking that Betika does not offer any promos or giveaways. But a look at the site's terms and conditions, found in a tab right at the bottom of the page shows that there is a host of bonus offers. Surprisingly, there is also mention of the daily jackpot (despite the tab on the home page showing no action offered).
According to the T&C's the daily jackpot is made up of two options, a 1×2 version and a goal/no goal option. The minimum bet for the 1×2 is 10 birr while the min stake for the gg/ng is 20 birr.
The winnings for the 1×2 is 50 000 while for the second option it is 100 000 birr.
There is no info on the amount of legs.
Betika Daily Jackpot

You can place a bet with either 20 Birr or a bonus equivalent to 20 Birr. The prize for this Jackpot is 100,000 Birr to be shared amongst all winners.
The number of games in this Jackpot is fixed at 9
If 3 or more games are postponed, all bets placed are voided and your stake is refunded.
If one game is postponed, we divide the prize by 3, if two games are postponed the prize is divided by 9
You may place an unlimited number of bets in each event.
All results are from official competition Websites e.g. the EPL website.
Betika reserves the right to reverse the settlement of this Jackpot if the bet or a selection within the bet is settled in error.
Betika reserves the right to accept or decline any bet requested for any competition or market or bet type that is included in this Jackpot.
You cannot cancel this Jackpot Bet.
Betika Weekly Jackpot
The bet amount is fixed at 10 Birr.
Maximum Jackpot bets are unlimited.
The Weekly Jackpot prize is fixed at Birr 1,000,000
The Jackpot is based on thirteen (13) pre-selected football events which will kick off every Weekend. These games will be available on www.betika.com/et/
At the end of the last match in the Jackpot list, once the correct outcomes of all the 13 matches have been acquired, the Jackpot winner(s) will be the ones who have predicted 13/13.
There will be jackpot bonuses for 11/13 and 12/13 correct predictions. The amount will be shared equally among all the winners.
Jackpot bets are accepted five (5) minutes before the scheduled kick-off of the first football match of the Jackpot.
The Jackpot amount is to be divided equally amongst all the Jackpot winners
Where one or more jackpot game is cancelled, an official public draw shall be carried out within 72 hours from the time of cancellation, to determine the result of the missing game result.
If a match is abandoned or postponed from its scheduled date/time but is then rescheduled to take place no later than the advertised kick-off time of the last match on the list, then provided the match is played to completion at the re-arranged time, all selections will stand.
In all cases of postponements, cancellations, suspensions of matches, the local date and time of the event is taken into account (local time). The official kick off of every match is the last officially publicized time by Betika. Therefore, any subsequent time publicized, supersedes any previous and is henceforth considered the new official kick off time of the match.
Betika will use each winner's, and each entrant's personal details for the purpose of administering this competition. By entering this competition, players agree that Betika and its business partners may use the details provided by the player to contact them about its products and services and for marketing purposes.
All 3-way jackpot bet selections should be confirmed before placing a bet, as once submitted, jackpot bets cannot be cancelled, amended or refunded.
The official results of the Weekly Jackpot will be announced on the website www.betika.com/et/ and all available Social Media platforms.
After a period of three (3) months from the draw of the winning bet combination, any prize claim is void.
Acca Bonus
This promotion/offer is available to new and eligible customers.
This promotion/offer is calculated based on multiple bets with 5 or more selections.
The maximum possible ACCA bonus per bet is Birr 100,000
The bonus is credited automatically with the bet payout and is credited as cash
The selections must have odds of at least 1.40 in order to qualify for this bonus. For example, in the event of 8 combined selections with all 8 winning, and 2 of the selections each have odds of less than 1.40, the winnings will be paid out for the whole bet, but the bonus will apply for the winnings part from the 6 selections with odds of at least 1.40
In case any selections are postponed or voided the bonus will still apply, however the percentage bonus added will reflect the actual number of winnings selections. For example, a 7 accumulator bet with 6 winners and 1 voided match will receive 15% (see the table below).
Bets placed with bonus or points will not qualify for this offer.
Only sportsbook markets are eligible in this promotion/offer
The more selections you add to your slip, the larger the bonus.
Betika may reclaim any bonus amount that have been awarded in error.
Betika reserves the right to change the terms and conditions of the promotion without prior notice and customers are encouraged to regularly review the terms and conditions.
Betika general terms and conditions apply to this promotion and where there is a conflict between these promotion rules and the general terms and conditions, the general terms and conditions shall prevail.
Betika ET Fasta
These are games that allow users to place bets on various games which include Yewerqet Jet, Gold Rush, Cab Crash, Magic Numbers, Dare Devil, Street Dice, Archeo, and Rock Paper Scissors.
Where the system generates winnings in excess of the allowed maximum limit, any amount above this limit will be regarded as void and not validly due and payable.
Betika reserves the right to void any winnings, at its sole discretion, and to take any and all remedial action in instances including, but not limited to;
– System or software malfunction or errors, including palpable errors; and
– Suspicion that there are Prohibited Activities being undertaken.
All stakes and winnings are subject to applicable government taxes as may vary from time to time in line with statutory amendments
Betika ET Promotions and Bonuses
The promotions as offered under the terms and conditions section include a bet accumulator with a min bet of 5 and a max bet of 20 birr.
There is no mention of the win percentage, not how many legs are the minimum.
The bonuses are pretty decent, and even though they are not advertised on the home and landing pages. There is a welcome bonus and a referral bonus.
The refer a friend bonus is of 50 birr and the max daily bonus limit is 1000. This means that a player can refer 20 friends a day and make a decent amount.
According to this section there is Betika loyalty bonus rewards and a lost multi-bet bonus – where a punter can lose two games in a multi-bet and earn up to 100 birr back.
The fact that the promos are not advertised or shown on any of the pages generally means that they are not currently on offer but could come into effect at some time in the future.
The terms and conditions section cover all the how to bet explanations and there are instructions on 'how to deposit'.
Betika Ethiopia Deposit Options
Mpesa is seemingly the only way to deposit and withdraw. To play go to Mpesa Menu – use the pay bill number 290290, account name Betika and a punter must then enter the amount to deposit. A player can top up by dialling *644#. There is no info on withdrawal. Find out ho to deposit on Betika ET
Overall the Betika Ethiopia version is impressive in covering football and there are a host of win opportunities, especially a large jackpot.
The lack of advertised promos is a negative and scrolling down the T&C's can only confuse a punter who wants to cash in on the giveaways.
There is plenty of work to be done to make this a top-notch platform but there is plenty of potential.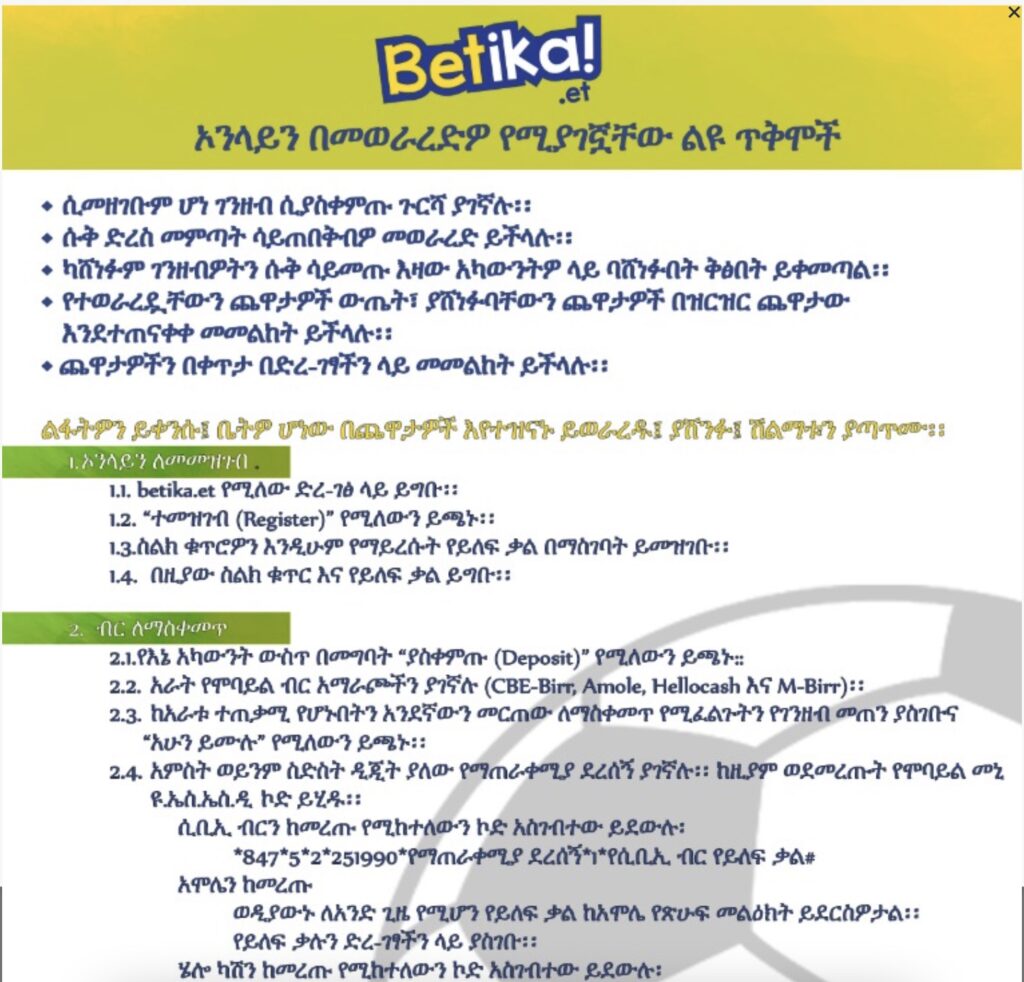 Betika Mobile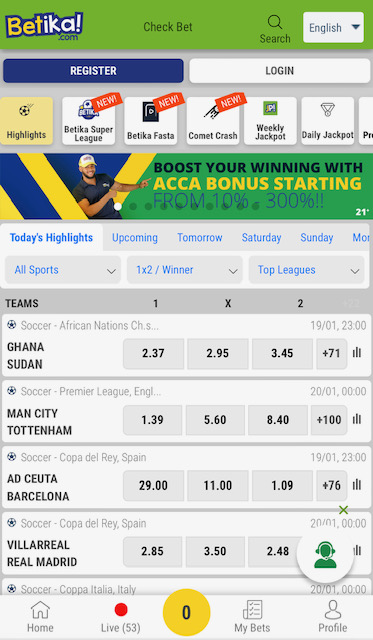 The mobile version of Betika Ethiopia has a footer menu. From here, you can quickly access the home page, live matches, your bets as well as your profile page. You will also be able to view your betslip.