How to deposit with Chapa
Fintech startup Chapa Financial Technologies S.C was founded in 2020 by entrepreneurs Israel Goytom and Nael Hailemeriam. The National Bank of Ethiopia officially licensed the homegrown fintech company in May 2022. The company's primary mission focuses on building payment APIs and payment tools for ambitious Ethiopian businesses.
Chapa's first, new, advanced payment infrastructure promises to help businesses serve international and local customers by providing access to secure and unified digital payment solutions.
Currently, Chapa allows processing payments from eight international payment options and ten local ones. The international payment options currently processed by Chapa are JCB, Visa, PayPal, Discover, UnionPay MasterCard, and American Express.
Meanwhile, locally, Debit Card/ATM cards of Bank of Abyssinia, Awash International Bank, Addis International Bank, Hibret Bank, Cooperative Bank of Oromia, Berhan Bank, and NiB International Bank are processed by Chapa. In addition, three mobile money platforms, telebirr, CBE Birr, and Awash Birr, have also been integrated.
"With more than 110 million people, Ethiopia is the second largest country by population in Africa, but fragmented payments have been a significant problem for most Ethiopian businesses and entrepreneurs," Israel said. "We have acquired and established holy-grail tools, exclusive techniques and methodologies to ensure the production of qualified hi-tech fixes for our customers. Now, businesses can focus on scaling their businesses while we handle their payments issues."
Merchants will be charged 3.5pc per domestic transaction and 1pc for international transactions, while money isautomatically settled into the merchant's account within 24 hours.
The whole process of depositing and withdrawing won't take more than 5 minutes
How to deposit into Betting companies using Chapa
Step 1
Going to their betting website, such as Vamos Bet, Habesha Bet and Hulusport.
Step 2
After logging in you have to choose between depositing and withdrawing
The person has to create a new account or log in to their account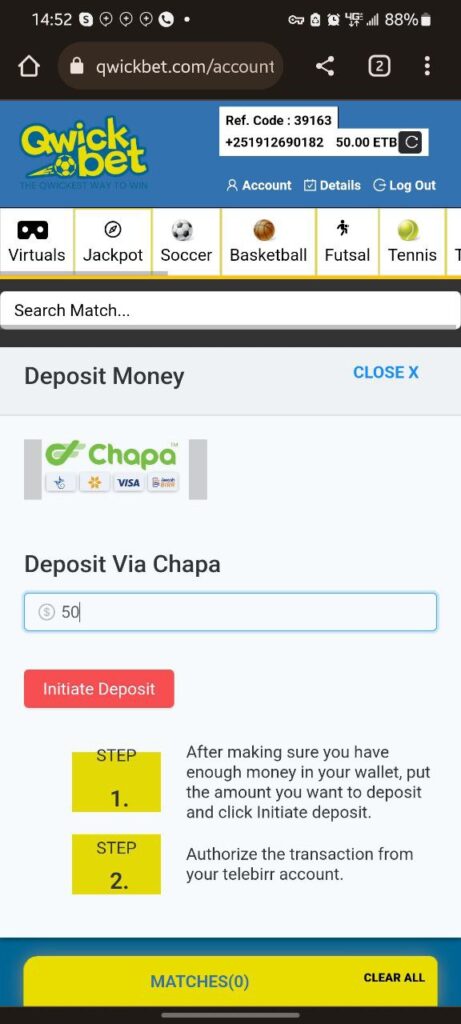 Step 3
After selecting deposit you have to enter the amount of money you are depositing.
Step 6
After Filling all the required info you will receive you will be asked to verify your
Step 4
After entering the deposit amount you have to choose between several payment options
Step 5
If you choose a bank
You have to fill in all the required information.
Step 6.1
After Filling all the required info you will receive a bar code asking you to verify your payment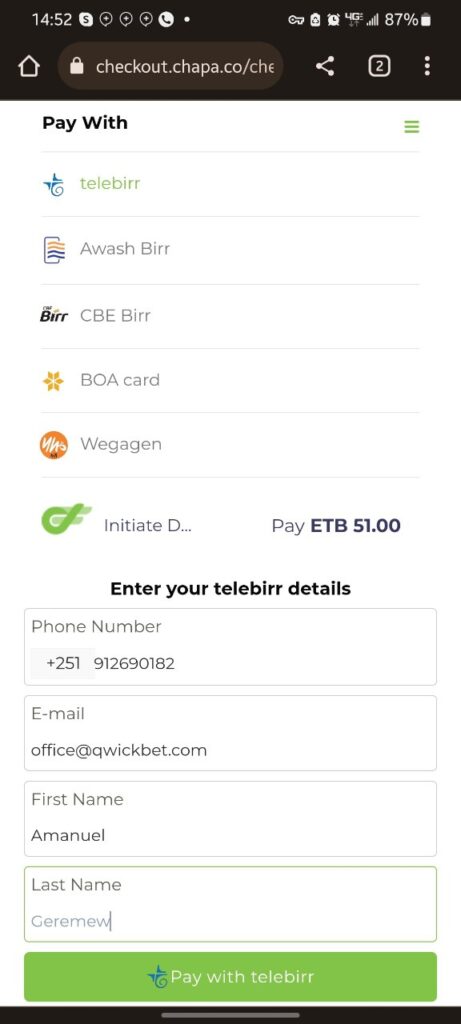 Step 5.1
If you choose a mobile money platform you have to fill in all the required information.
For withdraw
Step 1
Selecting Withdraw
Step 3
After entering the amount of money you are withdrawing you have to select a payment method to withdraw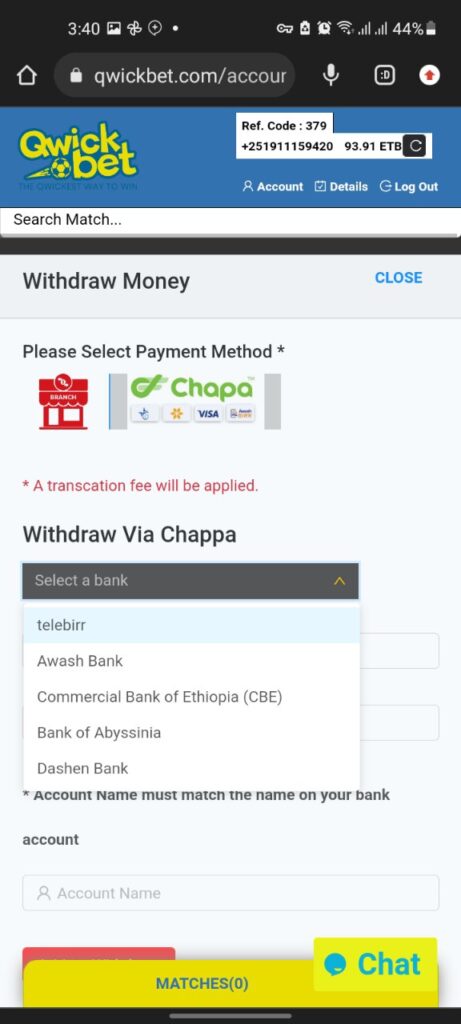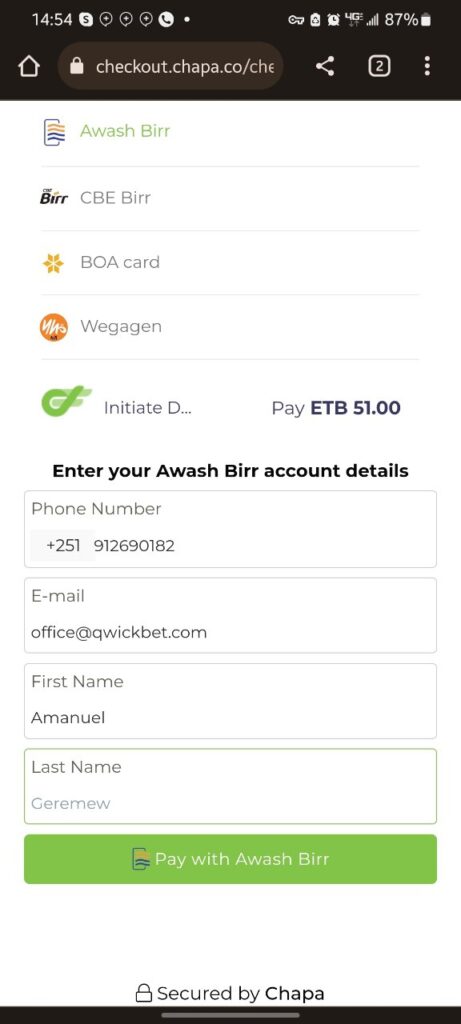 Step 2
After selecting withdraw you have to enter the amount of money you are withdrawing
Step 4
After entering all the verification you will receive this notification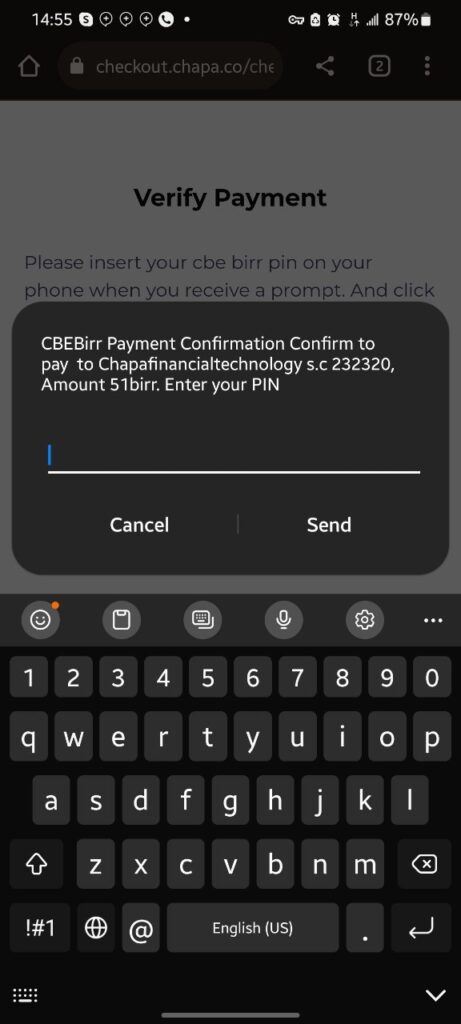 For software developers, Chapa provides easy integration. By adding six lines of code to their website or app for accepting payments, what Chapa describes as "simple as a copy and paste job." Chapa has also created a community of developers and programmers who can assist businesses in integrating Chapa's payment gateway.
"Chapa's mission is to empower Ethiopian entrepreneurs and businesses to thrive in the global economy," said Nael.
Inadequate interoperability amongst financial institutions, cash-based e-commerce, lack of functioning digital payment gateways, and limited fintech product offerings have long been the limitations of Ethiopia's digital economy.
Chapa, which plans to empower and connect 100,000 entrepreneurs and businesses to the global economy by 2025also eyes the African market.